Paperless Onboarding
Fully optimize the way you handle new hire paperwork, by eliminating it!
Coastal Payroll Services electronic, paperless Onboarding solution is exactly what employers need to manage the process of onboarding new hires into the organization. Whether you are hiring employees occasionally or daily, you need the ability to automate the process, store electronically signed paperwork and policies, perform e-Verify and background checks, and send the information electronically to the payroll system. Our goal is to help employers eliminate the offline, manual onboarding practices of yesterday and move into the digital age.
The secret to our revolutionary technology is the all-inclusive employee interview. The process guides each of your employees through a question-and-answer process, after which the appropriate data is then overlaid onto the appropriate forms. The result? A simplified process that produces professional, e-signed, secure, and organized employee documentation, easily accessible online and seamlessly fed into your payroll system.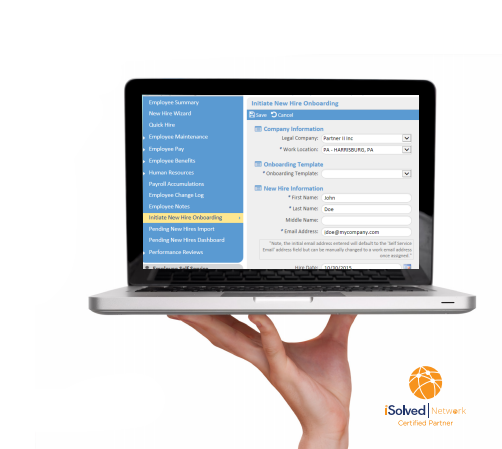 The entire solution is accessible from any internet location, meaning HR representatives can collect information from employees around the world.
Our system is multilingual, making our interview questions and directions easy for everyone to understand. Our complete interview removes the redundancy of painstakingly filling out multiple forms, ensuring that everything is received both faster and more accurate and complete. There is no re-keying by a third party, and we can preload previously completed employee data, meaning everything is right the first time.
Our real-time dashboard allows human resources to track the progress of employees through the application and approval process. Everyone in an organization is able to work together: while each part of an employee's approval process is handled, each department can work on its specific tasks by logging in and viewing its workload. The result is faster collaboration without the inefficiencies of reviewing each department's individual tasks.
The system allows HR to scan and store important documents such as driver's license or passport pictures with the interview. It's a marriage of all the important application pieces in one secure, online "filing cabinet." All information entered into the onboarding system is easily fed to your payroll system. All documents can be popped into PDF form, should the need for printing arise.
Better yet, we integrate the Work Opportunity Tax Credit (WOTC) screening process directly into the software!