Applicant Tracking
An Applicant Tracking System is technology that helps employers organize and manage recruiting and hiring processes.
Commonly referred to as an ATS, these products provide a central applicant database, a set of processes and collaboration tools to help employers manage recruitment and hiring efforts. From providing applicants a way to apply to jobs online to managing and tracking interview processes, think of applicant tracking systems as supply chain software for hiring.
Coastal Payroll partners with several industry leading ATS providers, and our iSolved technology can also integrate with your existing ATS. Our ATS solutions are user-friendly, cloud-based hiring platforms that are completely universal, optimized for use on any smartphone, tablet, operating system and browser with nothing to install or download. Activation is easy and requires little training.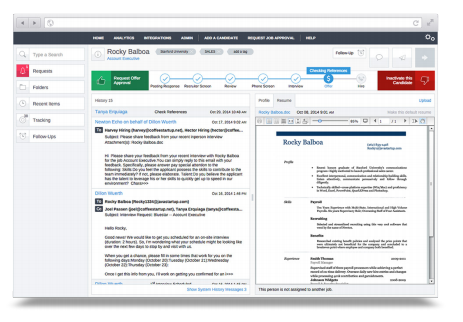 E-Verify
E-Verify is an Internet-based system that compares information.
This includes employee's Form I-9, Employment Eligibility Verification, to data from U.S. Department of Homeland Security and Social Security Administration records to confirm employment eligibility.
E-Verify compares the information to records available to the U.S. Department of Homeland Security, including:
U.S. passport and visa information
Immigration and naturalization records
State -issued driver's licenses and identity document information
Social Security Administration records.
As of November 30, 2012, a total of twenty states require the use of E-Verify for at least some public and/or private employers: Alabama, Arizona, Colorado, Florida, Georgia, Idaho, Indiana, Louisiana, Michigan, Mississippi, Missouri, Nebraska, North Carolina, Oklahoma, Pennsylvania, South Carolina, Tennessee, Utah, Virginia, and West Virginia.
E-Verify gives you the peace of mind that newly hired employees are legally authorized to work in the United States. So what's the catch? There isn't one. Employers are already required by law to complete Form I-9 for each newly hired employee, and E-Verify complements Form I-9 by taking employment verification to the next level.
Coastal Payroll Services helps employers automate the E-Verify process from within our Onboarding solutions. This helps reduces your exposure to audits and penalties from I-9 violations. Employees can complete I-9s online with Electronic Signature Verification (ESV) and you can securely store completed I-9s in the Onboarding software.
Employment Screening
Coastal Payroll Services provides you secure and affordable access to a web-based national criminal directory for employment screening and background checks.
This directory includes over 507 million criminal records covering all 50 states plus the District of Columbia, Guam, and Puerto Rico.CPS is committed to providing a high quality, low cost, complete employment screening solutions tailored to meet your criminal background check needs. Our system is fast and easy to use allowing for immediate results.
Full-Service Background Check Solutions Including:
Instant National Criminal Searches
Multi-State Sex & Violent Offenders Search
County Criminal History
Motor Vehicle Records
Employment Credit Reports
Social Security Verification & Address Tracker
Healthcare Industry Search Services
Tenant Screening
Volunteer Screening
Visit our Employment Screening page to learn more!